The academy administrators can now setup different roles, skills and interests that will be available for users to select when they are being onboarded (the user onboarding process is being improved in accordance and will be implemented in coming times). Furthermore, academy administrators will themselves be able to assign these roles, skills etc. to any user, under the list of academy users.
Content administrators/facilitators can benefit from this feature as well. If an academy has roles, skills or interests activated, then content administrators/facilitators can assign a particular content as mandatory or recommended for any of those roles, skills or interests.
Let us take a look at how the above parameters are setup.
Defining and assigning roles, skills and interests
As an academy administrator, click Admin option in the left side menu, and then click the Roles, skills and interests card.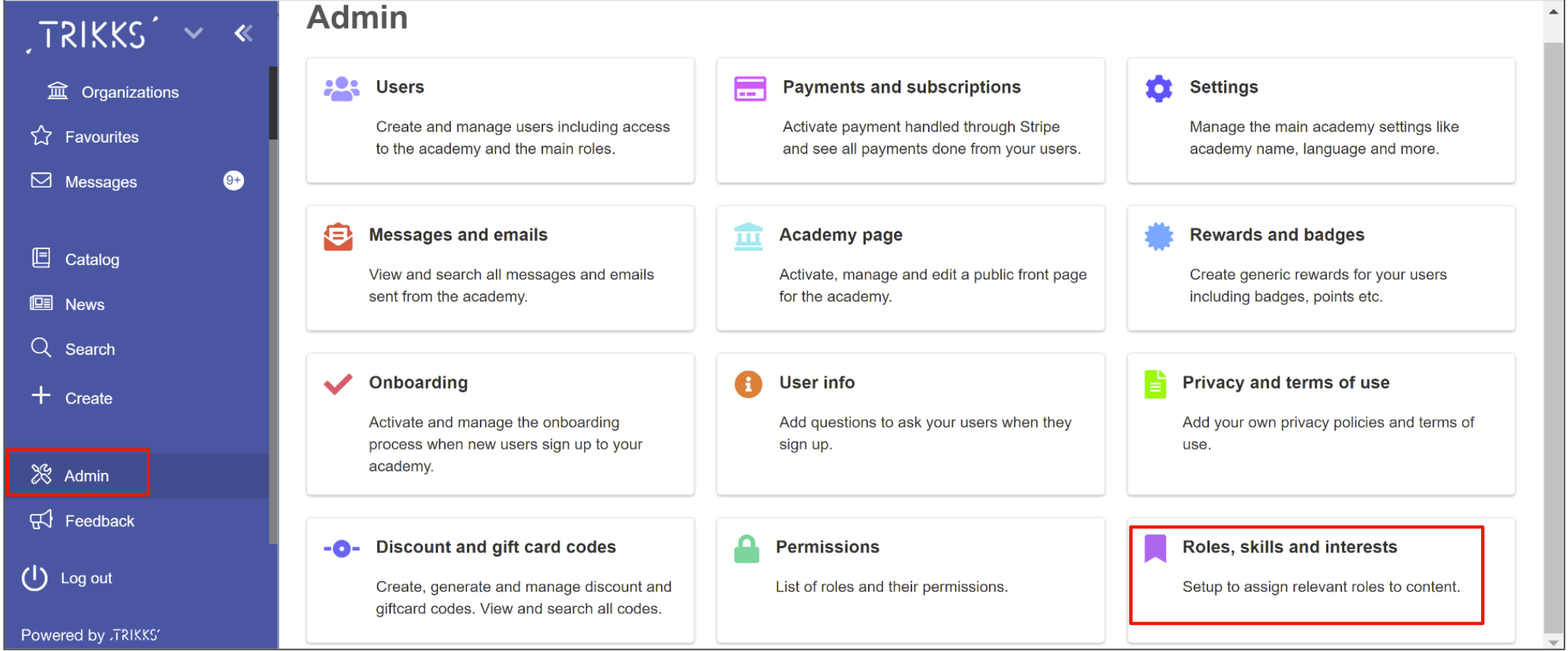 This will open up the page where you can set these parameters to on and be able to manage them: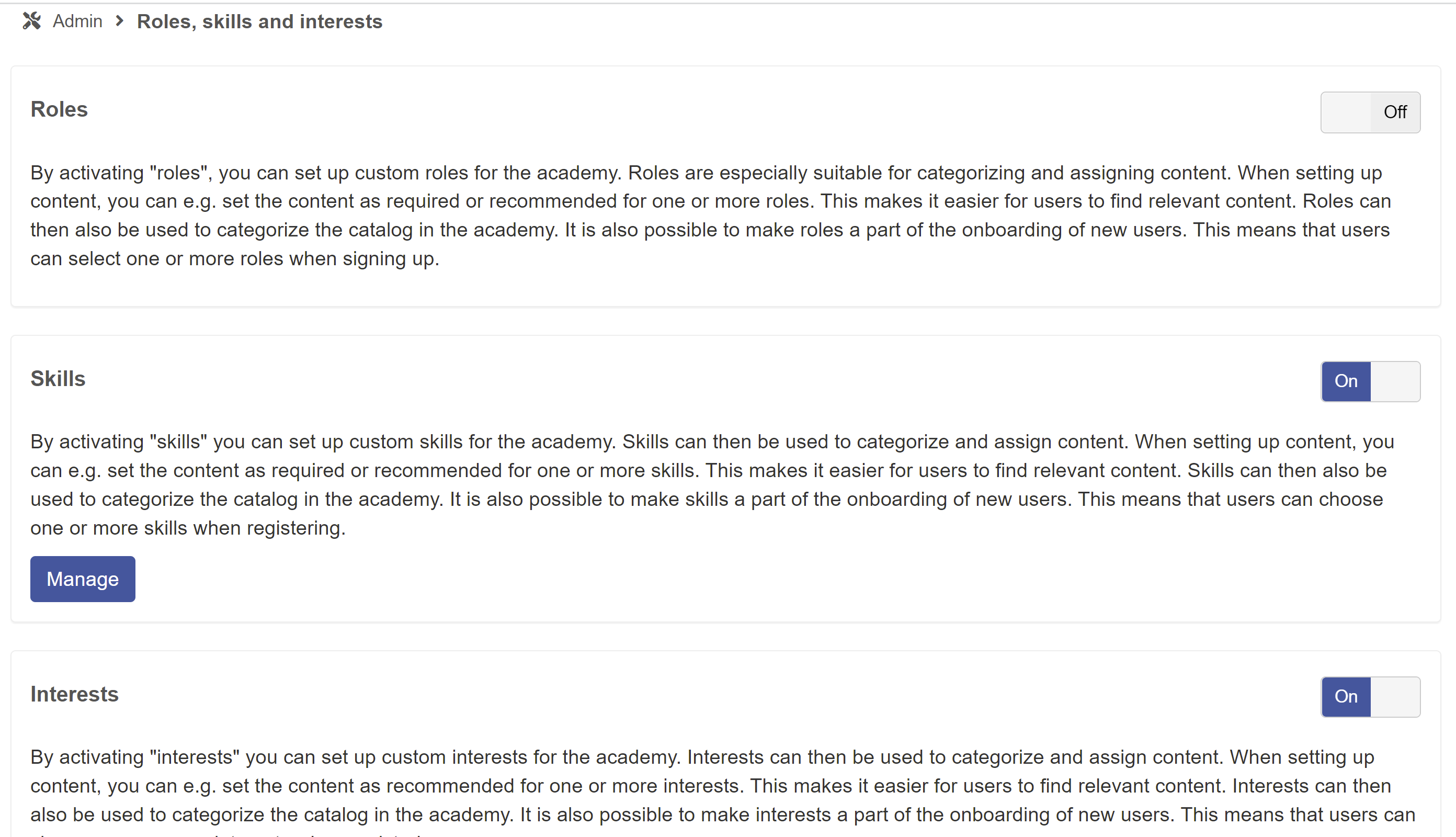 Once you have set any of these parameters to on, you will see the 'manage' button appear. Click the manage option to open the respective pop-up.
Following example shows turning on the roles option and creating a new role, 'project manager', for the given academy: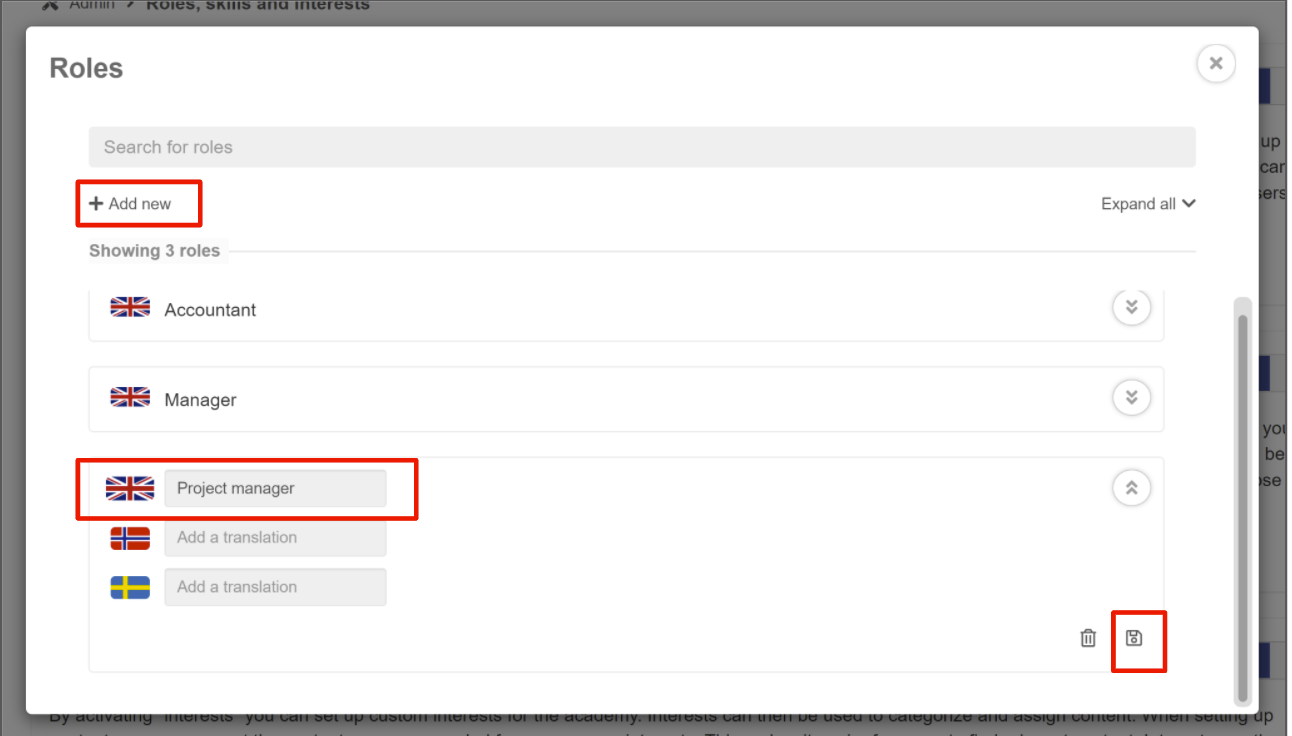 As you can notice, this is also where you can add a translation to that particular role title in other languages available as per your academy. Remember to click the save icon. Now the new role has been created for the academy.
Assigning roles, skills or interests to users
Next, let us assign this newly created role to a particular user in the academy.
Click Admin > Users > search for the user that you wish to assign the role to.
Click the 3-dots icon next to user name and select assign roles. It is possible to assign multiple roles, skills and interests to a user.


Now the user has been assigned the role of project manager.
Making a content mandatory or recommended for particular roles, interests or skills
As a content administrator/facilitator, select the content from catalog or the elearning page that you wish to assign as mandatory to, say, a certain role.
Click the 3-dots and select settings option. From the settings pop-up that opens up, scroll down to the options of mandatory and recommended, as seen below:

As you will notice, the content can either be set up as mandatory for all users or you can click the '+Add' button to select from a list of roles, skills or interests that you wish to make it mandatory for:

A pop-up will open displaying a list of all the roles that have been setup at the academy level by the academy administrator.
select one or multiple roles and the content then should be assigned as mandatory for those selection of roles:

The TRIKKS platform development team believes that the concept of assigning roles, skills and interests to users and courses, can be of great value, and we will be working on further improvements towards this concept in the times to come.
In the meantime, if you have any questions or feedback, please let us know at support@trikks.com.