1) Those with admin/facilitator access will see the '+ Create' button in the side bar.
Clicking this will display a list of options that you have the access to create in your academy.
Click Content, which presents the toolbox pop-up, showing the tools that are specifically enabled in your academy's toolbox.
2) Select which tool you wish to work with. All the tools involve a 2-step setting up process.
A pop-up with basic information to fill-in

Opening the content to start building inside that tool with the provided building blocks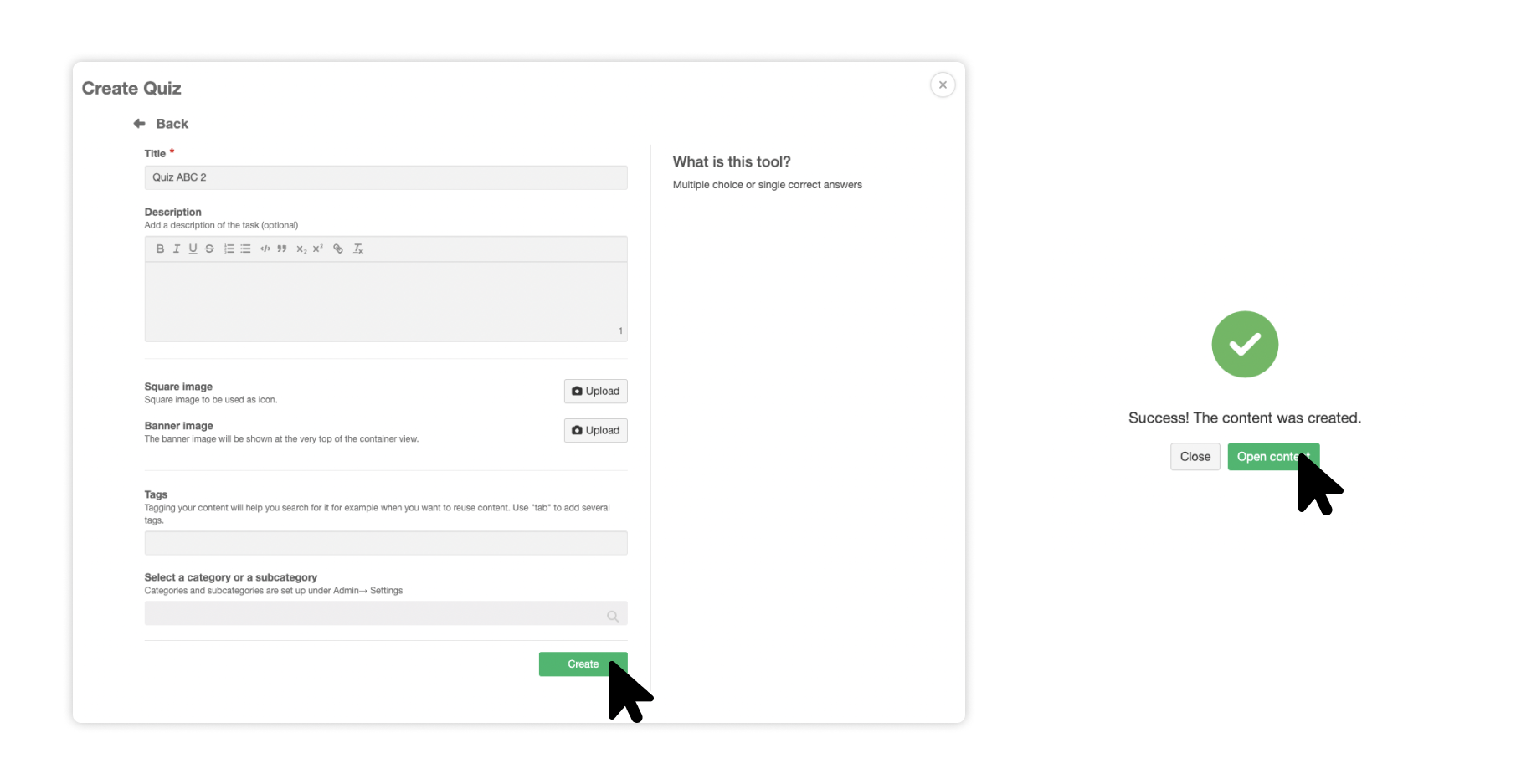 The example above shows the simple steps involved in creating a quiz.
The quiz tool comes loaded with a range of building blocks to choose from - you can add different question types such as single choice, multiple choice, dropdown questions etc.
Let us say, the creator of the quiz opts for a single choice type of question to continue building this quiz. Clicking the single choice building block will present the following layout for creating the question: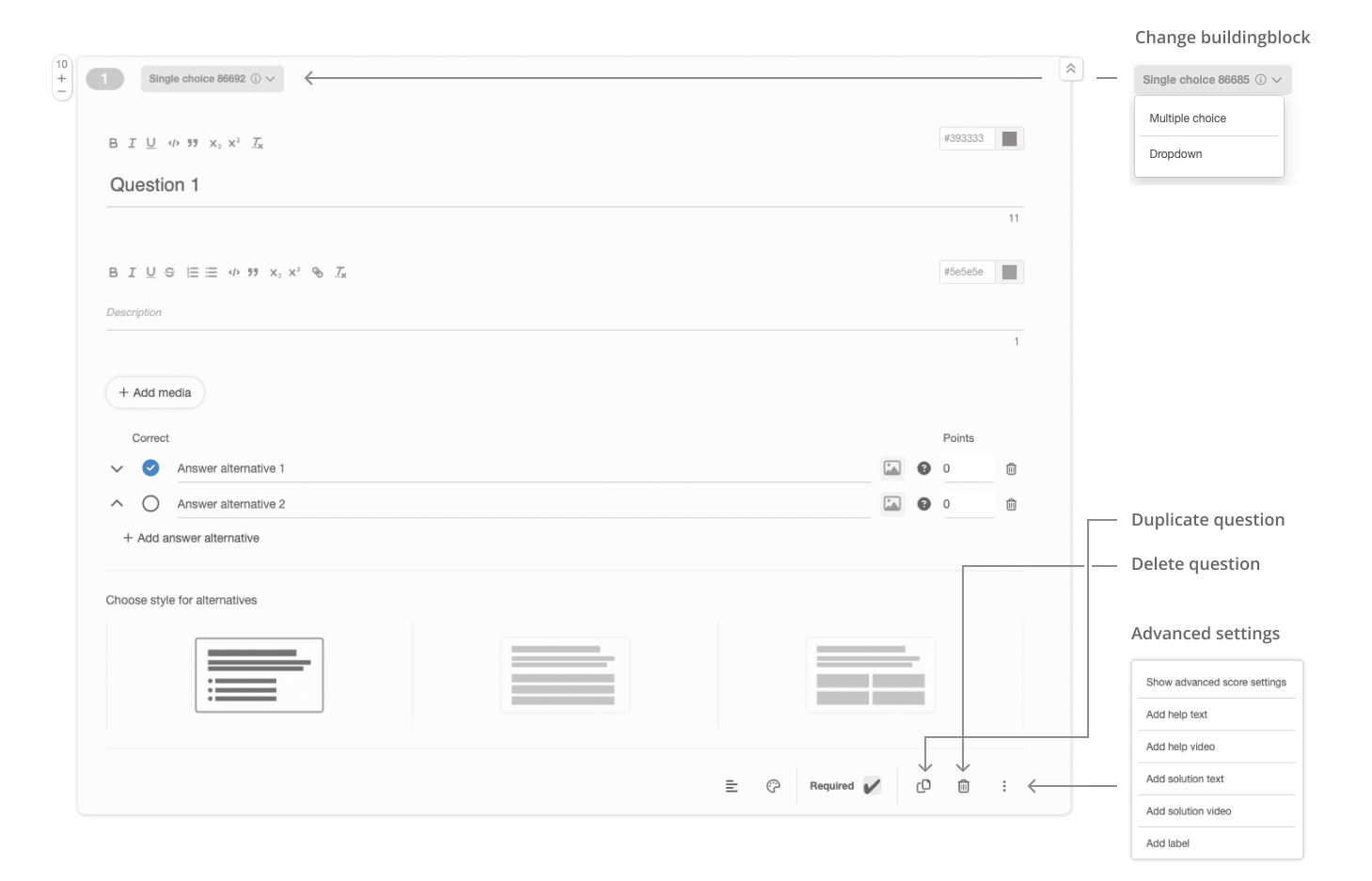 Note: It is fully possible to switch from a single choice to a multiple choice type of question by clicking the change drop-down.
Simply fill-in the question text, provide answer alternatives and the correct choice(s) accordingly.
It is possible to assign points to each answer alternative as seen in the screenshot above.
Scrolling to the bottom of the block, you will notice some additional settings that allow you to style the block, copy or delete the question and set it as a required question. Checking-off the required checkbox presents the question with a red asterisk marking it as mandatory for users.
Continue adding more than two answer alternatives by clicking the '+ Add answer alternative'.
Clicking the 3-dots menu available at this bottom bar, as seen above, presents further advanced question setup options.
These advanced options can be used to provide help text and solution related resources:
Once done setting-up the question, simply click the collapse arrows at the top of the block, the question is auto-saved.
You can continue in the same way by adding new blocks as preferred.
The next step after setting your quiz up would be to start inviting participants to it or sharing it across in the different ways possible. In order to access these settings, click the 3-dots menu at the very top: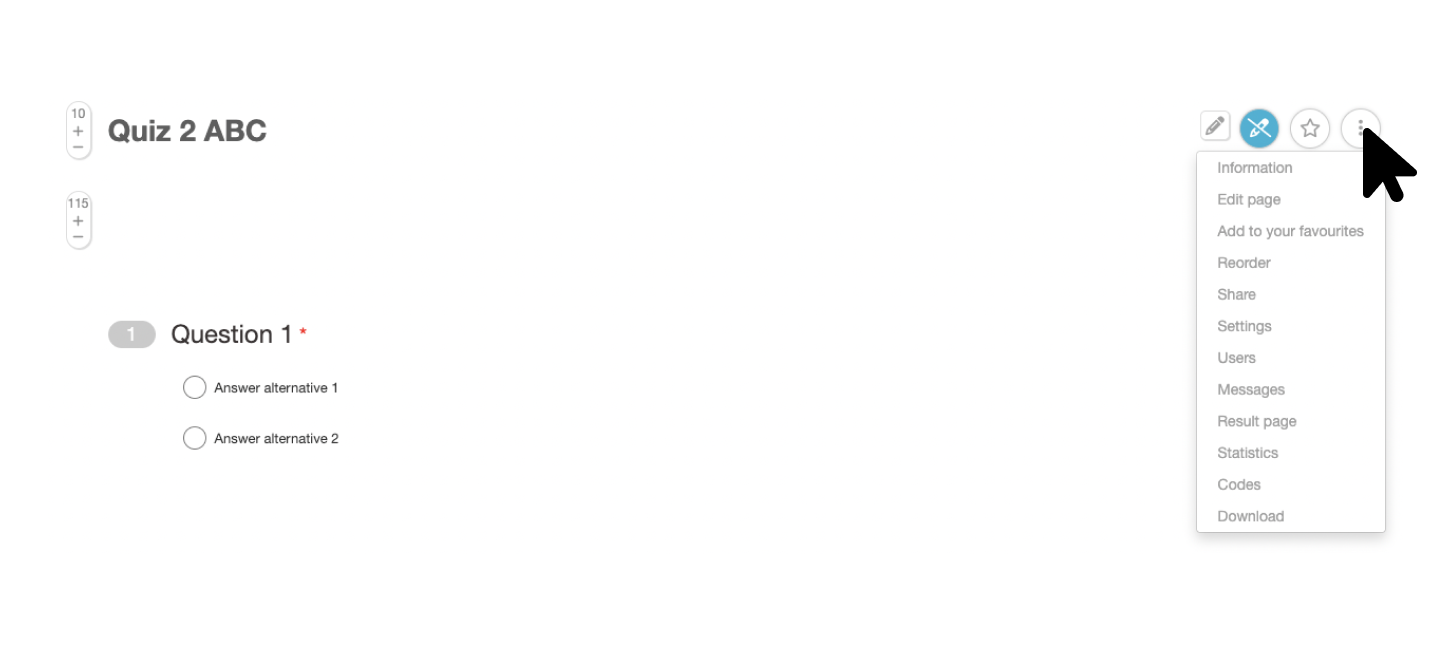 Just like for other tools, use this menu for general settings, inviting users, sharing to catalog etc, setting up a result page and other options as appearing in this 3-dots menu for all the tools.